<![CDATA[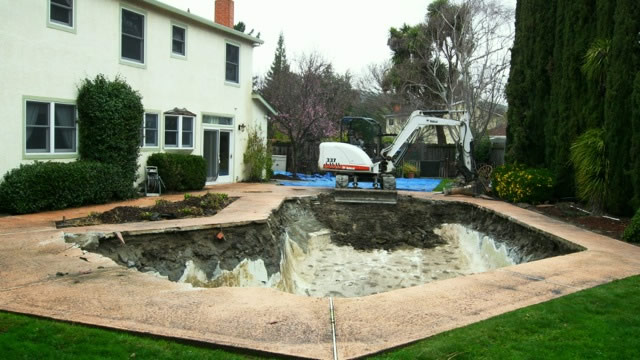 Is It Time To Remove My Pool?
Keeping and maintaining a swimming pool can cost you an average of $2,000-$3,000 per year. Over time, that's a lot of money that could have been spent on vacations, college tuition, or even a new car. Not to mention any repairs or replacements you've had to make.
There are a lot of reasons you may want your pool removed, but every situation is different. Here are some of the most common reasons we get for people requesting swimming pool removals:
Your kids have moved out.
When your children were young, it most likely seemed well worth the investment instead of expensive water park trips or joining country clubs for pool access. If you're not the one who uses the pool all of the time and the ones who did have gone off to college, why keep it?
Planning to sell.
You may think having a pool increases your home value, but many buyers find it negative since the cost associated with maintaining a pool is so high. This is especially true if your pool is older or not in perfect condition.
Repairs.
Normal chlorine testing and filtration maintenance aren't the only routine factors in keeping your pool up to standard. If you have even a slight crack or repair it could cost you thousands of dollars, often costing even more than simply removing the pool.
More yard space.
After the novelty of having a brand new pool wears off, many realize they have lost too much yardspace and would rather have more outdoor space than a hole in the ground. Depending on where you live, most pools are only usable a few months out of the year when it's warm, and the other ¾ of the year are just in the way of having a bigger yard.
You're buying a home.
Just because your dream home on the market currently has a pool and you don't want one, it doesn't mean it's out of the picture. Considering cost of ongoing maintenance WITH a pool, the cost of removal will even out after 2-3 years. It's also possible to haggle the price lower if you know you're going to have to remove the pool anyways.
Saving money.
Removing an in ground pool isn't cheap, but it's worth the one time expense compared to how the yearly costs add up. Without pool repairs, water testing, and all of the maintenance you need, you can finally save that money for other parts of your life. Each year many homeowners decide it's time to get rid of their pool, but have no idea where to start. That's why contacting a local pool removal with professional demolition contractors can make it much easier. From initial deconstruction to engineered filling, you won't have to lift a finger. Stop worrying about the cost of your pool, and get your yard back today.
]]>