<![CDATA[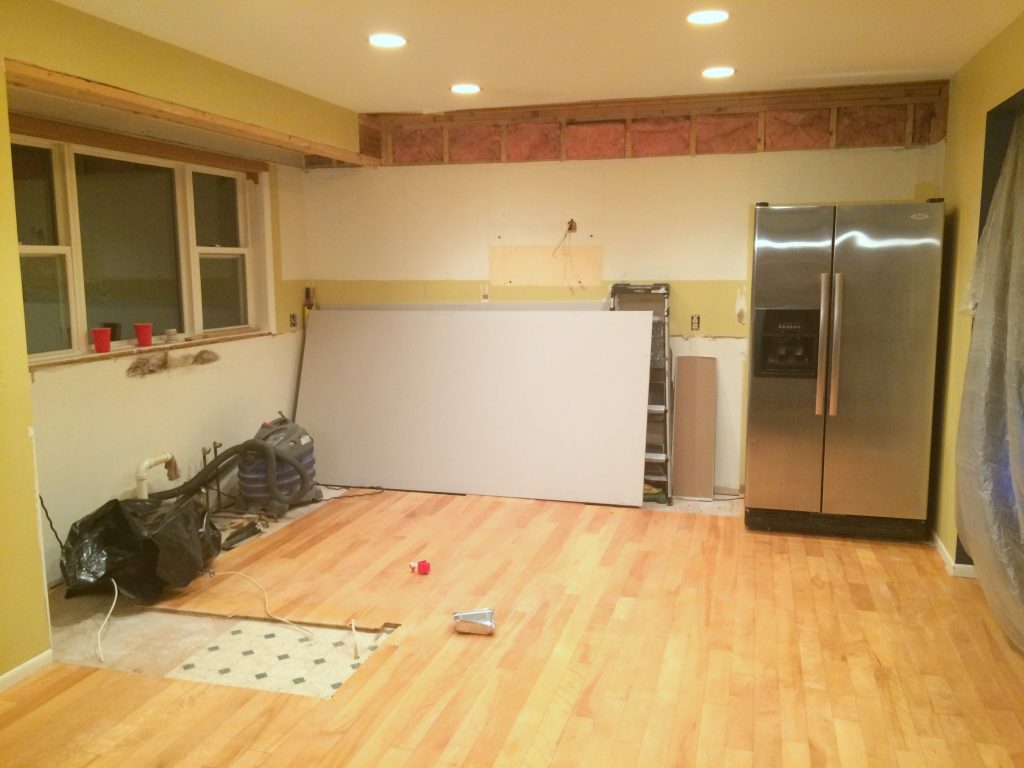 Depending on the size of your kitchen and just how much needs to be changed, a true kitchen remodel can take anywhere from a few weeks to over a year. Mixed with contractors, demolition, design, appliances, and other factors, it can be extremely unpredictable. For a major renovation that alters the structure and blueprint of the overall space, a realistic timeline is about 6 to 12 months. That time includes the process of planning and designing, hiring a contractor, choosing furniture and materials, demolition, and the new kitchen build out.
Planning Your Remodel
Begin by fully picturing the end goal of your new kitchen. Use Pinterest or make a mood board of photos and designs you like. Make sure you know exactly what it is you're looking for. Figure out what will be replaced, what hardware and finishes are ideal, what appliances will stay and go. Make sure you lay out ahead of time what is a "must-have" and what is "nice-to-have" for your redesign so that you aren't going over budget left and right. The larger the scope of your project is, the more important having a well thought out plan and budget are.
Create a budget. If you're going by industry standards, the typical rule is to set aside 10-25% of your home's total value for the project. Whatever number you choose, the most important thing is actually sticking to your budget and following it no matter what. Including an extra 10-15% cushion for any issues or problems is a good way to make sure you don't have unexpected drawbacks or changes in your plan.
Hire a contractor. Unless you have wholesale retailers in all sorts of materials and a good knowledge of construction, hiring a professional demolition contractor is the way to go. They should be experienced, trustworthy, and good with their day to day communication. The best contractors are usually found through referrals from friends or neighbors who have had their home remodeled, and already done a lot of the vetting- not to mention already worked with them. Don't forget that good contractors tend to get booked out pretty far in advance, so contact them as soon as you know your timeline.
Consult with a designer. After you've got your vision, and measured you space out, it's helpful to consult with an interior designer. Even if all you have is general photos of what you like, their job is to translate these concepts into one well-designed area. Be clear about your needs, 'nice-to-haves' and your budget. Initial design Takes a couple of days, and the final design can be completed in a few weeks depending on how involved and prepared you are.
Get quotes.
Once you know the aesthetic you're going for and have the contractor on deck, get all your quotes for different finishes, materials, fabrics, anything you need and compare it to your budget. The better you communicate your budget with designers and contractors, the more on budget you'll stay and the less surprises you'll have later on.
Rough Construction
Here is where the kitchen demolition and rebuilding come in. You'll have the main structures here with pipes, electrical wiring, and you'll see the basic floorplan of your new kitchen manifest.
Demolition and removal of your kitchen takes anywhere from several days to 3 weeks. It all depends on how much is being removed, what is staying, what needs final inspection, special installation, etc.
Utilities will take 1 to 2 weeks on average. Once debris is cleared, the contractors begin rough outlines and beginning electrical and plumbing jobs (like if you're moving a sink, refrigerator, stovetop, or adding in some gas/electrical fixtures, including lighting ad outlets in your new kitchen).
It will take 2 to 3 days to install and finish drywall. If you aren't adding walls then move right on to the flooring!
New floors can take 3-5 days to get installed. Different types of floors are installed at different points in the build, wooden floors will often go first before anything else whereas vinyl flooring can be added and cut after cabinets are installed.
Final Construction
This will take 1 to 2 months on average because there is much more detail involved. The rough construction was all framework, but this construction includes all of your aesthetic details as well. Your new cabinets, countertops, tile, lighting, and appliances are all put into place and you'll finally see your new kitchen.
Cabinet installation typically lasts 3-5 days. Details come into play here because you must make sure cabinets are level and balanced in relation to your floor/walls.
Adding in countertops can take anywhere from 1 to 4 weeks. Your new counters can't be added until all of your base cabinets are in place and properly mounted. THEN you can measure and install countertops.
Lighting will take only 1 or 2 days. New switch boxes and wiring lights can start off time consuming, but if properly prepared it will be simple.
Depending on material, backsplashes tend to take 1-2 days as well. Usually it can be done one afternoon, but if you've got an intricate design with small tiles or uneven areas to cover it can take a litte more time.
Appliance installation is usually done in one day. Once you know electrical, HVAC and gas are all set up properly, it's just a matter of unpacking and plugging things in.
Cleaning up Construction Debris
Hire a junk removal crew or rent a dumpster to make this quick an easy. Check ducts, vents, cabinets, anywhere where dust could have built up or extra tiles and debris may gather. Save sweeping and wiping down for last. With all of that done, the only step left is moving back in! Organize your pots, pans, spices, final décor, and your new kitchen is complete.
]]>