<![CDATA[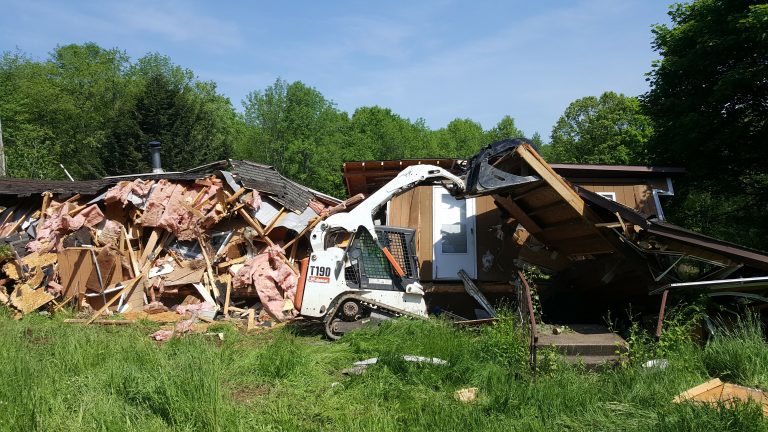 How To Demolish A Mobile Home
Mobile Home & Trailer Demolition may be simpler than traditional home demo, but like any real demolition project it can be extremely dangerous. A broken down or dilapidated trailer home on your property can be an eyesore. Mobile homes only have a roughly 50 year lifespan, so anything within that range is sure to need removal quickly.
The main tools you'll see used when mobile homes are demolished include:
Excavator
Skid Steer
Hand tools
Truck and Chain
Mobile Home Demolition is not for beginners or DIYers
It is much too risky for an inexperienced mobile homeowner to try to demolish the home themselves. With one wrong cut or mistake things can collapse or become very dangerous very quickly. It is always best to search for a local professional demolition contractor for mobile home or trailer removal.
Steps of Mobile Home Demolition
With the right equipment and experience, demolishing and cleaning up after a mobile home can be done in as little as 5-6 hours! When you hire a professional to demo your trailer, here's what you can expect:
Disconnect all utilities before any work is done
Large dumpsters on site for debris removal and proper dumping
Start with walls- they are the main structure holding up the home
Remove the roof, and place larger pieces into one area for further breaking down
Load the dumpsters with debris, separating recyclables and hazardous materials
Flip the trailer over in order to remove the bottom frame of the structure
Cut up the trailer frame (in a safe location) using a sawmill.
Clean up remaining scraps and debris piles and put into dumpsters
Load up remaining recyclables or separate materials for their proper waste removal destinations
Don't forget to obtain all necessary permits prior to beginning demolition!
Selling Scraps
People demolishing their mobile homes often wonder what the scrap value of an average 70′ mobile home might be. Unfortunately, after demolition the average scrap values only $300-400 depending on its specific materials. The demolition and removal costs for a mobile home or trailer majorly outweigh any scrap value of the same home. Be extremely cautious of anyone who offers trailer demo in exchange for scraps, as they typically leave EVERYTHING else behind for you to clean up!
Call Professional Demolition Contractors
If you are located in Austin and need a mobile home or trailer removed, our experienced and reputable demo contractors are more than happy to help. We are experienced in demolition, dumping, and hauling, and we know how to safely and quickly remove all debris and acquire all permits. Contact us today to learn more.
]]>