<![CDATA[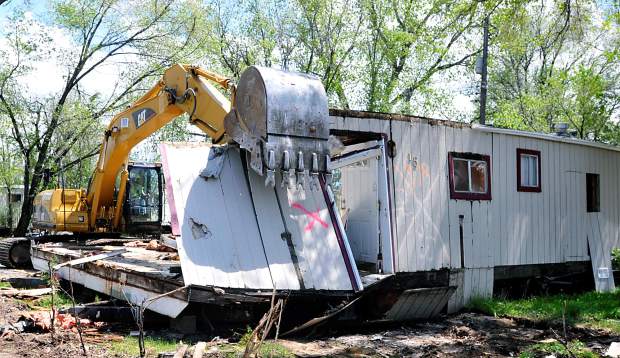 10 Common Mobile Home Questions
Moving into a new mobile home? Getting rid of an old one? There are tons of questions from mobile home demolition to purchasing your first one.
1. What's the lifespan of a mobile home?
On average, today's manufactured mobile homes have a lifespan between 30-55 years! 15 years may seem like a big gap there, but you have to take into account weather, location, and of course whether or not you keep up with maintenance.
2. How are mobile homes built?
Most mobile homes are built in an incredibly quick assembly line process located in a controlled environment in a factory. This allows them to be constructed quickly and for a relatively low price. Generally, the process starts with a steel frame for floor support and assembly. The walls are usually built in a separate area and completed out, then added after flooring. Next, all plumbing, wiring, and HVAC installations happen. Topped with a roof, the home then has sheetrock added, kitchen fixtures, and windows installed.
3. How much do mobile homes cost?
Mobile home prices vary based on several factors, just like regular homes:
Size (double or single)
Condition (if pre-owned)
Lot size
Location in the city
Mobile home community
A new home can top off the low end around $36,000 (single wide) to $84,000 and up for a brand new double wide.
4. What's my mobile home worth?
Just like the pricing above, there's no way to generally estimate it without a contractor or consultant well versed in appraisals. The factors will be similar to the ones for buying a new home like size, condition, and location.
5. Do mobile homes have load bearing walls?
Yes and no- it all depends on your home. Typically single wide homes will not have any lead bearing walls, whereas doublewides will.
6. Can mobile homes be moved?
It's all in the name- these homes were meant to be able to relocate. Unless you've made alterations that keep it from traveling most homes can be moved. Consult with a professional and have them inspect your home before trying to relocate on your own.
7. Can mobile homes be remodeled?
Just like normal homes they can definitely be renovated. It's worth noting however that they are subject to the Manufactured Home Construction and Safety Standards, or "HUD Code," rather than local building codes that home demolition typically follows.
8. How are mobile homes removed?
Mobile home demolition – complete removal via demo is the fastest and cheapest way to get rid of an old mobile home.
Deconstruction – This is more expensive than demolition and not the best option for all homes. However, it may produce some salvageable parts and materials.
Relocation – Since not all mobile homes can actually be moved, it isn't an option for everyone. It's more expensive than demolition, and time it takes depends on the condition.
Find a mobile home demolition contractor near you
9. How does mobile home demolition work?
Once it's all clear, it's as simple as having the right equipment to tear down the basic structure of the trailer. It's best to hire a professional demolition contractor who knows which permits you need and what can/can't be thrown in the dump.
10. How long does mobile home removal/demolition take? With the help of a bulldozer or a good excavator it shouldn't take more than a few hours to complete demolition on a mobile home of any size!
]]>